Paintings of Wales
Ystrad Fawr
Ystrad Mynach (2008/22)
Prints are available, sizes 1, and 11. Click
HERE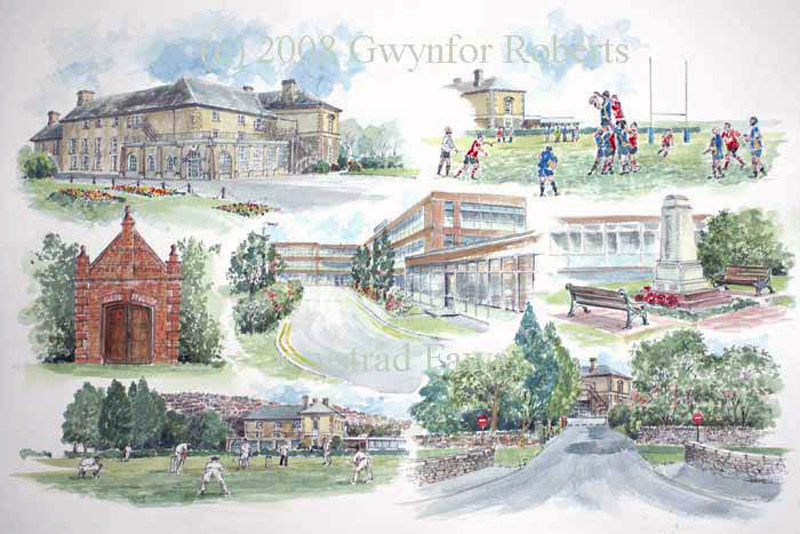 This painting shows the area of Ystrad Fawr as it stood in early 2008 The whole site has now been completely demolished to make way for a new General Hospital, due to open in 2011 - the new hospital is the replacement for the Miner's Hospital in Caerphilly, Aberbargoed Hospital, Oakdale Hospital and Ystrad Mynach Hospital.
Once again an area of historic importance has been lost in Ystrad Mynach - this painting captures part of that history. Starting from top left we have the original buildings of Colonel Lindsay (?), the last user being Caerphilly C.B.C. The other side of the house was the local registry office and many wedding photographs were taken on the front green The two sporting sketches shows how the playing field was put to good use. The top sketch shows a game with Penallta Rugby Club while the bottom one captures a game of cricket with the Tredomen team. The middle three from the left shows the 1910 Fire station. I remember this standing outside the old council offices in Park road, Hengoed, maybe its original home. Next is the former National Coal board offices build in the sixties/early seventies? and last going -off was occupied by caerphilly C.B.C. Then we have the cenataph, again moved a number of times though it is now standing in its new spot which I think will be at the entrance to the new hospital. The bottom right sketch shows the exit from Ystrad Fawr and takes us on to the old Caerphilly road. If you have any further information please mail it to me and I'll look at adding it to this page.
Ystrad Mynach
Ystrad Fawr
Home
Contact
Prints
sketch book
Art prints of Wales
County Borough of Caerphilly, Wales
latest paintings of Wales
Other paintings of Wales
Other paintings
of Wales
House paintings
Table mats
Trains and stations
Paintings of properties
Paintings of West Wales
Paintings of North Wales
Chapels and Churches in Wales
Miniature prints of Wales
Special offer prints of Wales.
Tour of Britain cycle race - 2011.
Tour of Britain cycle race - 2012.
Paintings outside Wales.
Business gifts
This site is Copyright
Welsh Artist Gwynfor Roberts estate