The 2011 Tour of Britain
Cycle Race.
These paintings show the cyclists passing through Tredomen in Ystrad Mynach. South Wales on the 14th September.
Stage 4. Welshpool to Caerphilly
It's just now and again I get the chance to capture an event like this so I've taken the opportunity to produce three watercolour paintings. The first is 2011/52, a snapshot of the three leading riders : Endura racing, AN Post Sean Kelly and Rapha-Condor-Sharp, followed by the motor cycle/cameraman as they came down Tredomen hill on their way to the finish at Caerphilly. They were caught by the peloton just after the Asda traffic lights.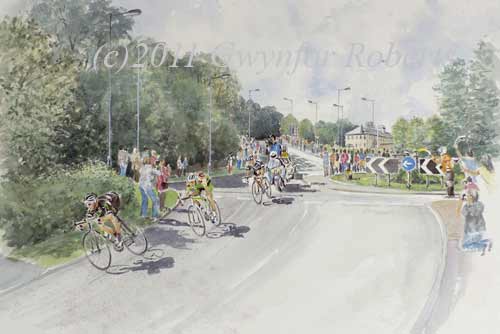 2011/52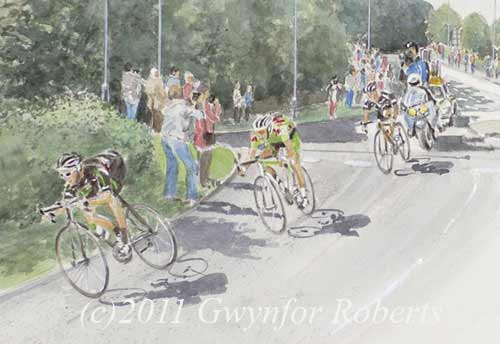 detail from 2011/52
The second is 2011/53 and shows the chasing peloton some 1 1/2 minutes behind
the three front cyclists. Leading the peloton are five team Sky riders.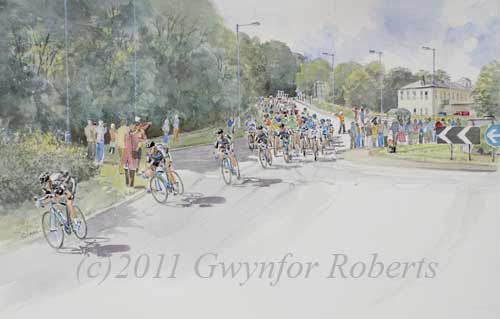 2011/53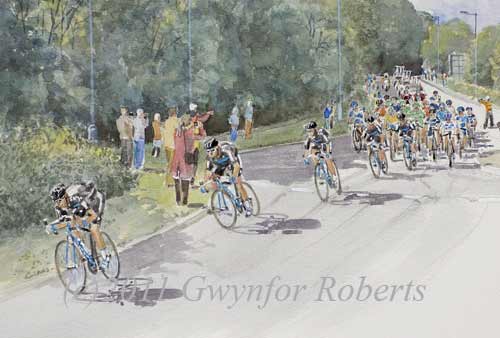 detail from 2011/53
The third is 2011/54 which shows the end of the peloton.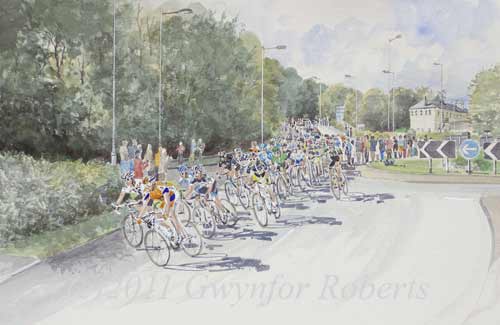 2011/54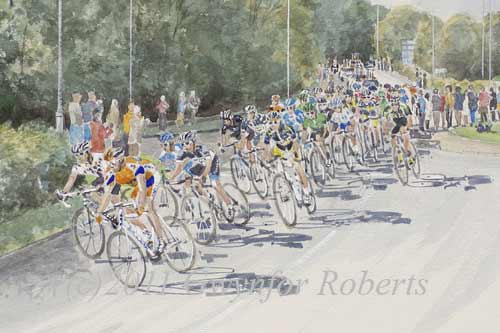 detail from 2011/54
Cycle paintings
Ystrad Mynach
Home
Contact
Prints
sketch book
Art prints of Wales
County Borough of Caerphilly, Wales
latest paintings of Wales
Other paintings of Wales
Other paintings
of Wales
House paintings
Table mats
Trains and stations
Paintings of properties
Paintings of West Wales
Paintings of North Wales
Chapels and Churches in Wales
Miniature prints of Wales
Special offer prints of Wales.
Tour of Britain cycle race - 2011.
Tour of Britain cycle race - 2012.
Paintings outside Wales.
Business gifts
This site is Copyright
Welsh Artist Gwynfor Roberts estate