Paintings of Wales
The Old Bridge, Ystrad Mynach
(55)
Prints are available - size 1 and 11. Click
HERE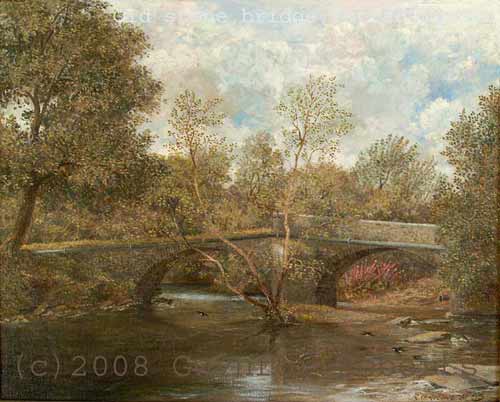 Painted in 1981, this painting shows the bridge and the Rhymney river at the lower end of town - just a short distance up stream from Ystrad Mynach Mill. The bridge was demolished soon after I completed the painting. I had received numerous offers for this painting but I declined to sell, It hung in my home for some 18 years until a lady saw it while it was out on show. She remembered the bridge from her childhood days, needless to say she now owns the painting.

J. scott wrotes :
I have recieved the lovely print today, thank you so much it's really nice to deal with someone like yourself! I will always remember your site and pop in from time to time.
Thank you once again, have a great christmas and a very happy new year.
Ystrad Mynach
Home
Contact
Prints
sketch book
Art prints of Wales
County Borough of Caerphilly, Wales
latest paintings of Wales
Other paintings of Wales
Other paintings
of Wales
House paintings
Table mats
Trains and stations
Paintings of properties
Paintings of West Wales
Paintings of North Wales
Chapels and Churches in Wales
Miniature prints of Wales
Special offer prints of Wales.
Tour of Britain cycle race - 2011.
Tour of Britain cycle race - 2012.
Paintings outside Wales.
Business gifts
This site is Copyright
Welsh Artist Gwynfor Roberts estate