Passing steam trains
Hengoed-Maesycwmmer Viaduct
(2014/23)
A print is available - size 11. Click
HERE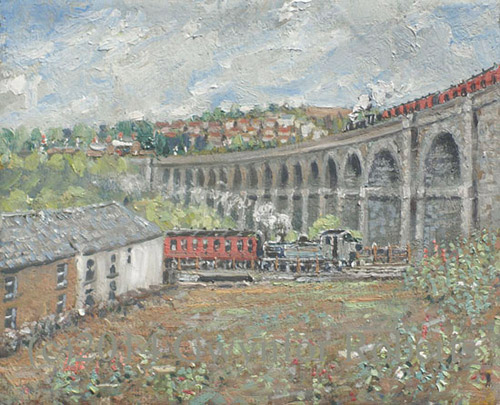 This small oil sketch is an historic scene - pre mid 1960's - where two steam trains pass at Maesycwmmer and the sixteen arch Hengoed viaduct. The steam train on the viaduct is returning from Pontypool Road station and going on to Neath whilst the lower steam train has travelled up from Newport heading for Brecon. Hengoed High level station and the village of Hengoed are visible on the other side of the viaduct. The station closed in the early 60's along with Maesycwmmer station - out of the painting on the left. It is worth mentioning that the view is still here today, the trains and railway lines represent a little history from days long gone. Whilst being a small oil sketch this does depict 'local history' and temps me towards a much larger oil painting.
Hengoed stations
County of Caerphilly
Home
Contact
About
Prints
sketch book
County Borough of Caerphilly, Wales
latest paintings of Wales
Other paintings of Wales
Other paintings
of Wales
House paintings
Table mats
Trains and stations
Paintings of properties
Paintings of West Wales
Paintings of North Wales
Chapels and Churches in Wales
Miniature prints of Wales
Special offer prints of Wales.
Tour of Britain cycle race - 2011.
Tour of Britain cycle race - 2012.
Paintings outside Wales.
Business gifts
This site is Copyright
Welsh Artist Gwynfor Roberts estate