Newport to Brecon train
passing through Cwmdu Farm
Maesycwmmer (2010/52)
Prints are available - sizes 1,10 and 11. Click
HERE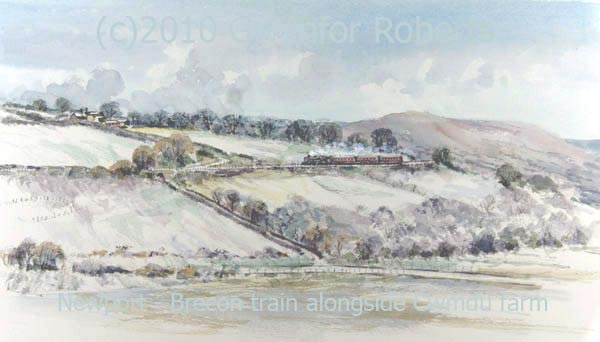 This winter scene is a bit of a nostalgic trip for me. The scene is set in 1964 with Cwmdu farm on the left. It captures the Brecon bound steam train passing through to Maesycwmmer station. How things have changed - Later views can be seen in my Cumdu Gallery.
Our valley was lucky in those days to have two lines- one on each side of the Valley. The East side had the Newport to Brecon line (long gone) whilst the West side of the valley has the Cardiff to Rhymney line - still with us. Not forgetting the Neath to Pontypool line which used Hengoed high level and the viaduct

My thanks to Mr D O Packer of Ystrad Mynach for lending his details of this view. These details are not readily available, without his help this painting would not have been done.
Cwmdu Farm gallery
Home
Contact
About
Prints
sketch book
County Borough of Caerphilly, Wales
latest paintings of Wales
Other paintings of Wales
Other paintings
of Wales
House paintings
Table mats
Trains and stations
Paintings of properties
Paintings of West Wales
Paintings of North Wales
Chapels and Churches in Wales
Miniature prints of Wales
Special offer prints of Wales.
Tour of Britain cycle race - 2011.
Tour of Britain cycle race - 2012.
Paintings outside Wales.
Business gifts
This site is Copyright
Welsh Artist Gwynfor Roberts estate