Ystrad Mynach Church
from the railway station
(2015/34).
oil - Prints are available
Contact
me for details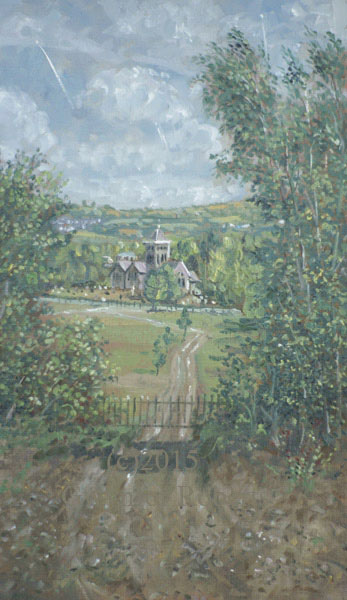 This small oil painting just 155 x 265 mm is taken from the new walk-over bridge at Ystrad Mynach railway station.
During 2013/14 the station went through a lot of changes and as you can see the station workers cut-away trees and banking to make a works entrance via Ceda way. Now the work has been completed the temporary entrance has been fenced off, but it seems there are be plans to provide a new station entrance through the field allowing cars to enter the station from Cedar Way - seen in front of the church. Whilst council owned, the field seen is managed by Ystrad Mynach Infants' School so the proposed changes can't be good news.

Ystrad Mynach
Home
Contact
Prints
sketch book
Art prints of Wales
County Borough of Caerphilly, Wales
latest paintings of Wales
Other paintings of Wales
Other paintings
of Wales
House paintings
Table mats
Trains and stations
Paintings of properties
Paintings of West Wales
Paintings of North Wales
Chapels and Churches in Wales
Miniature prints of Wales
Special offer prints of Wales.
Tour of Britain cycle race - 2011.
Tour of Britain cycle race - 2012.
Paintings outside Wales.
Business gifts
This site is Copyright
Welsh Artist Gwynfor Roberts estate