Hengoed Viaduct (62)
Prints are available - sizes 1 and 11. Click
HERE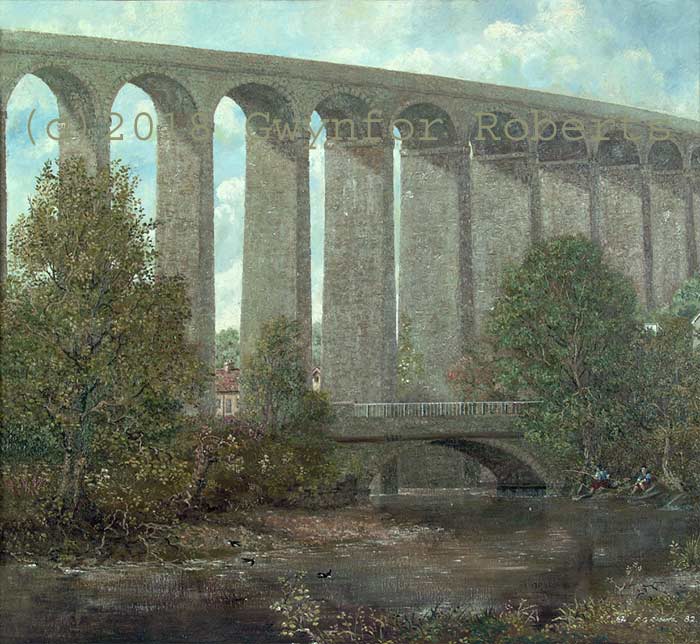 This painting shows the Viaduct over the Rhymney river. The road bridge connects Hengoed on the right, to Maesycwmmer on the left, the old Wool Mill is just visible through the arches. Hengoed high level station which no longer exists was to the right of the picture. Today the Viaduct is open for the public to walk across and is part of the national cycle path. Work on the Viaduct commenced in 1853 and was completed in 1858. There are 16 arches making the Viaduct approx' 270m long. It is one of the oldest structures of its kind and formed one of the busiest rail networks. It was closed in 1964 and after much work was re-opened for the cycle path mentioned above. I was thirteen when the Viaduct closed so I can certainly remember the steam trains crossing over.
Maesycwmmer
Home
Contact
About
Prints
sketch book
County Borough of Caerphilly, Wales
latest paintings of Wales
Other paintings of Wales
Other paintings
of Wales
House paintings
Table mats
Trains and stations
Paintings of properties
Paintings of West Wales
Paintings of North Wales
Chapels and Churches in Wales
Miniature prints of Wales
Special offer prints of Wales.
Tour of Britain cycle race - 2011.
Tour of Britain cycle race - 2012.
Paintings outside Wales.
Business gifts
This site is Copyright
Welsh Artist Gwynfor Roberts estate